So y'all know by now that I work for a large wholesale company that sells amazing lighting, plumbing, cabinets and appliances.
This is all fun and stuff but totally sucks when it comes to doing your own home. It took me ages to pick out
these lights
and that is my j.o.b. Picking out a whole bathroom.....yikes.
My powder room has been on the "to-do" list since we moved in.
It has a slightly out of whack cabinet, awful top, and even worse light fixture. I had a new faucet laying around in the shed and we plopped that on there last year but she really needs an over haul.
and let's not forget to mention that it is small.
I mean teeny tiny.
like 3x6 small.
like your knees might hit the cabinet while you sit on the potty small.
Here she is as she stands now...
see.... I wasn't kidding.
nice huh?
Acutally, the nice part about it being
so
small, is that there is very little we can do to it other than just replace the existing fixtures with new ones. So that's our plan.
Well want see what I have come up with?
This took me.forever. While I pride myself at being fairly good at helping other people navigate their way through the vast amount of product we offer, I suck at helping myself.
The floors are great - they are hardwoods, not touching them. The problem with that is, I have to put a built in vanity back in it's place. So all those cute little PB knock off furniture pieces are out. Thankfully my company sells custom built in cabinets. Not so thankfully, along with everything else, the options are endless....
So I started here.....with
this wall paper
. I know it is a splurge but I only need two rolls for my doll house sized room. It took me forever to find something I liked and was neutral enough for resale in a couple years. Next I picked the cabinet color. I wanted something to play off the gray tones in the wallpaper and I thought a slightly darker shade would do the trick. The cabinet below is not the exact same one, but close enough to get the idea. Pair that with a remnant piece of carrara marble and we have this item checked off my list. Moving on to the accessories. Because I love the wallpaper, I wanted a very understated mirror and I love the tailored look of this one. And it helps that it has a matching tp holder and towel ring, so check and check. Oh and did you see that little, sweet door pull? I am in love. Next, on the list is the faucet. I have been eyeing this faucet since my Charlotte days. I love it as much as anyone could love a faucet and in my industry that is a lot. And last but certainly not least, the light. I am not 100% sold on this.....again, I have commitment issues with it comes to lighting (because I live and breath it everyday I assume). This is the only light in this bathroom so I need something bright. I like how this coordinates nicely with the round base of the faucet, mirror and accessories. And that's it.
Since Reid no longer cares....
(He is tired of me showing him samples and just wants me to "pick the darn thing out")
...I am dying to know what y'all think?
a special thanks goes out to
Natalie
and
Annie
for the link up!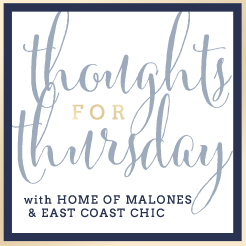 xoxo,
CAD
ps. Don't forget to enter this
May Designs giveaway!!
don't miss one minute of fun ~ follow along!