Happy Monday loves!
So last week kicked me in the butt... so let me please apologize for the lack of love in blogland! Now, let's blow past all the boring stuff and head right to the most exciting part of my week....
Wednesday we are off to Turks and Caicos!
Woohoo!

I am just a little bit excited , can't you tell?
Friday night I had the loveliest time with my
besties
! Our get-togethers have been pretty sparse lately because of babies, vacations and life. BUT we vowed at dinner that we would be better and schedule something every month. We ate at
Pomegranate
in Cary town and let me just say, the food and drinks were amazing! The only thing I have to complain about is that the restaurant was too dark for quality picture taking.... My besties were so thoughtful when they presented me with my birthday presents. They wanted to get me something to support this blog and surprised me with a tripod and remote for my camera. I simply could not ask for 3 better ladies to be in my life.
The rest of the weekend was spent in full vaca-prep-mode. That meant spending our Saturday running around town checking tasks off on the ole "to-do" list.
First thing we did was meet Ashley, our new puppy/house sitter. It was so great to see how much she loved our pups and made me feel so much better about being out of the country. She prob thinks I am a wacko with all the directions and information I spewed out but our pups are sorta cra cra.
We then ventured out to Shortpump to brave the tax free weekend....not the best idea we have ever had BUT we scored some great deals! AND I am happy to report that all we checked everything off our list and then some....my husband was not so happy that we picked up the extra items.
sorry.i.am.not.sorry.
#nordstromsandjcrewgetmeeverytime
Saturday night, Reid and I decided to feast on popcorn and Sprite for dinner at the Westhampton Theater. We saw
Begin Again,
you know that movie which debuts Adam Levine's acting career? It was actually a great movie and I would highly recommend. This is our second movie at this theater and we are in love. The movies that play there are a little artsy but fabulous! Plus this theater has an old school feel that makes you appreciate what going to movies must have been like back in the day.
(the song "Let's go to the movies" from Annie is now playing on repeat in my head)
AND since Sweet Frog is in walking distance, how could we not resist?
Sunday was filled with laundry, packing, getting nails did, more Target and eating wings. Sounds like a pretty successful Sunday huh?
Check back in tomorrow... I am sharing what's in my suite case!
(Lily finds included!)
A special thanks to Biana, Meghan and Kayla for hosting their wonderful linkups!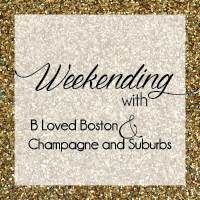 Much love!
xoxo,

CAD

don't miss one minute of fun ~ follow along!